About Us
Andrea's Healthy Kitchen is an all-natural juice bar and coffee shop in El Monte, California, committed to providing the healthiest, most nutritious juices, smoothies, bowls, and tasty, healthy delights to the entire community.

Hispanic and woman-owned, Andrea's Healthy Kitchen was created by Tatiana Pacheco with a strong commitment to bringing health and wellness through fresh, natural, high-quality ingredients. Tatiana's healthy journey began back in 2013 when she started changing her habits and choices for a better lifestyle. She then saw the need for people to find a natural, simple and affordable way to eat and stay healthy, and she was inspired to create something that would help not only her but other people in so many ways. Since then, Tatiana has kept on going with one simple mission: to provide the world with the most delicious fruit and superfood combinations, aiming toward a healthier lifestyle for everybody.

At Andrea's Healthy Kitchen, we are dedicated to delivering the best quality detox juices, smoothies, acai bowls, and healthy savory food like sandwiches, wraps and salads, providing local tastes, fresh and organic ingredients, and the customer care our clients deserve!

Our signature Detox Juices are carefully designed to bring the daily dose of vitamins and nutrients you need throughout the day, keeping the digestive system healthy and accelerating metabolism. The benefits of drinking these Detox Juices are weight loss, more energy, healthy skin, looking good, feeling good, lower blood pressure; and most importantly, it helps your overall health. Taste the rainbow and try them all, Andrea's Healthy Kitchen is your go-to juice cleansing provider, and we have a great variety of flavor combinations prepared just for you!


If You Are Looking For A Healthy Breakfast Or Lunch Near El Monte City Hall, El Monte Police Station, El Monte Library, Or El Monte Court House, You'll Definitely Want To Try Andrea's Healthy Kitchen's Unique Creations. You Can Also Find Fresh, Natural, Veggie, Gluten-Free Delivery Options And Enjoy The Andrea's Healthy Kitchen Experience At Home. There Is Always A Delicious And Healthy Option Waiting For You!

If You Are Having A Special Occasion, Or Are In The Mood To Celebrate, Call Andrea's Healthy Kitchen For The Best Healthy And Nutritional Juice And Healthy Food Catering In El Monte, California. We Cater Corporate Lunches, Breakfast, And Any Event, Serving The Most Delicious, Honest, And High-Quality Products, Along With The Most Attentive Customer Service.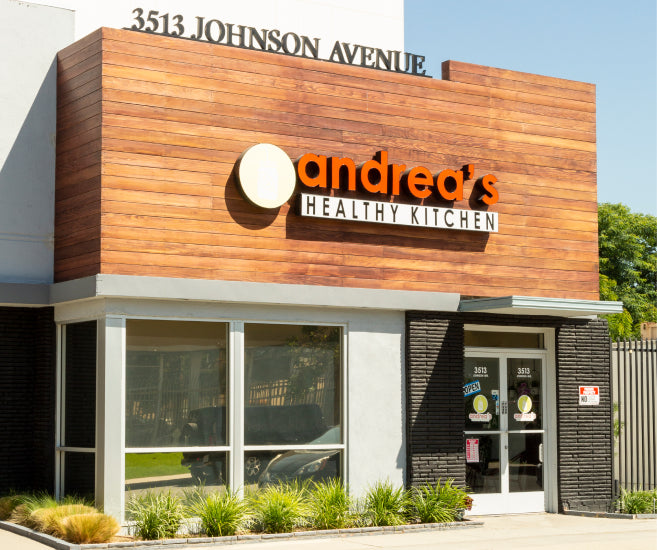 Where to find us?
Look for us at 3523 Johnson Ave, El Monte, California. We are near El Monte City School District, directly across from the El Monte Courthouse and Police Department, just a few blocks away from Regan Career Institute, and near Columbia School. Order for delivery, pick up or come straight to our shop to get the full Healthy Kitchen experience. You can call in and order at 626-325-0181 or stop by from Sunday to Friday, from 8 am to 5 pm

Cheers to your health! We look forward to meeting you soon :)